ABOUT SHAKUHACHI ATELIER
Welcome to shakuhachi-atelier.com the place where you can find a selection of quality handmade shakuhachi flutes using original materials from Japan. Great care is taken to ensure correct tuning, volume, tonal colours and response time to craft contemporary instruments capable of playing and performing music ranging from the traditional honkyoku repertoire to modern or contemporary pieces.
Each shakuhachi made is unique and in a sense player and shakuhachi form a special ecosystem, where breath and sound are mutually exchanged and over time players often develop a deep individual connection to their instrument. Appreciating that bond and the uniqueness of each piece of bamboo, the making process strives to find this essence and potential of each piece and bring it to the open and fruitation.
It is a long and exciting journey to learn, play and perform shakuhachi music and continue the transmission of its repertoire and tradition. Through the choice of instruments at shakuhachi-atelier I hope to be able to get people started on this journey as well as offer seasoned players additional instruments. Generally speaking, and depending on available bamboo, shakuhachi lengths ranging from 1.3 to 2.7 are made at my workshop. The standard length shakuhachi used in general teaching is the "1.8" [one-point-eight], i.e. key of D. Please enquire if you look for a particular length.
I also offer PVC shakuhachi as a very affordable entry point to the shakuhachi world. These flutes despite their simple appearance provide an excellent way to start studying or testing out the shakuhachi experience. And of course being made from a temperature and humidity resistant material they also make great travel flutes – nothing can stop you from playing Taki Ochi under a real waterfall now!
All the shakuhachi can be tested in person in London or Paris or possibly elsewhere if it can be arranged.
If you want to treat your shakuhachi to a new carrying bag or cleaning cloth, check out the accessories on offer. And if you have any particular questions or requirements please do not hesitate to drop me a line at info[at]shakuhachi-atelier.com and I will do my best to try to accommodate.
ABOUT ME
Thorsten Knaub is a media artist, digital filmmaker and shakuhachi player/maker. He received a Master in Fine Art Media from the Slade School of Art in London in 1999 and has presented his artworks and projects in countries including the UK, Europe and beyond. (www.thorstenknaub.com)
Over his long involvement with the shakuhachi, being curious about the seemingly simple construction of the instrument, he researched and studied the making aspect of the instrument from early on. In recent years he intensified his study and recently spent time in Japan with the master maker Miura Ryuho to study and deepen his knowledge about jiari shakuhachi making further. Knaub offers his shakuhachi for sale since 2017.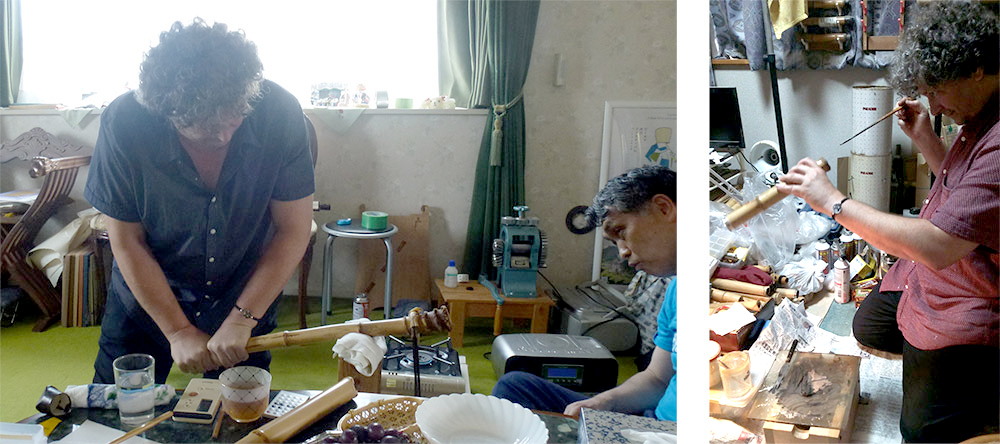 Knaub first discovered the shakuhachi when encountering two Japanese musicians in India in 1990. Being fascinated and taken in by its sound and sonic versatility, he, after settling in London a few years later, started to pursue the shakuhachi by exploring different styles and using it as tool for musical experimentation. Initially starting up the shakuhachi with Michael Soumei Coxall, then later taking lessons with Clive Bell and afterwards being a member of the SOAS (School of African and Oriental Studies) sankyoku class/group in the early 2000s.

In 2010 his experiments with the shakuhachi ultimately lead him to combine his visual art output with his shakuhachi activities and he recorded a CD and produced a short film in and around the abandoned cold war listening station situated on Teufelsberg (Devil's Mountain) outside of Berlin, Germany. The project attempted to weave together notions of architecture, history and site-specific improvisation and to situate the shakuhachi into a contemporary urban context. (Listening Station – music for abandoned structures and shakuhachi)

In 2014 he started to study with master player FURUYA Teruo sensei the shakuhachi honkyoku repertoire of the Watazumi/Yokoyama style as transmitted through the Kokusai Shakuhachi Kenshūkan in Japan.
Knaub was a committee member of the European Shakuhachi Society (ESS) between 2012 and 2018. He was part of the executive committee who organised the World Shakuhachi Festival 2018 in London (WSF2018), creating the visual materials and designs for the WSF2018, the festival website and curating the musical encounters "London meets Japan" between Japanese players and London based free improvisers. In 2020 he returned to the ESS committee as one of the editors of BAMBOO, the biannual ESS Newsletter. In November 2022 he was elected to the chairperson position of the European Shakuhachi Society.