EVENTS
Below you can find a selection of upcoming shakuhachi related events – e.g. workshops, making demonstrations or concerts – where shakuhachi atelier is either being actively involved in or is part of the organisational team. Hope to see you there!
APRIL 2021
TERUO FURUYA – ONLINE WORKSHOP 2021
We are pleased to announce an online workshop with Teruo Furuya!
Teruo Furuya, director and principle instructor of the Kokusai Shakuhachi Kenshūkan (KSK), will present honkyoku as transmitted through KSK, modern composition by Fukuda Rando and sessions on technique. This is a excellent opportunity to learn from one of the leading players active today. All levels welcome. Workshop places are limited to about 16 places.

Any questions please contact us at: info@shakuhachi-atelier.com
Workshop dates: Sat/Sun 17/18.4 & Sat/Sun 24.4/25.4
Workshop times: 10h00 – 13h00 (Central European Summer Time, CEST)

Fees: € 80 (£70/U$ 96/¥10,750)
Teaching language: Japanese/English
Translators: James Long (17/18.4) and Phillip Meese (24/25.4)
Technology: Zoom
(recordings will be available to view for 4 weeks after the event.)
Honkyoku pieces taught:
Kuyo no kyoku / 供養曲 (レ & り tuning)
Yamagoe / 山越
Tamuke / 手向
San'ya (Mountain Valley) / 山谷

Modern pieces taught:
Fukuda Rando: Gekkoh Rohteki /月光弄笛, Kikyo-Genso-kyoku / 桔梗幻想曲
Schedule:
Note: Times shown are in Central European Summer Time (CEST)
Sat 17.04 (WORKSHOP DAY I)
Session 1.1: 10h00 – 11h00 Honkyoku Kuyo no kyoku (レ & り)
Session 1.2: 11h05 – 11h50 Technique 1
Session 1.3: 12h00 – 13h00 Honkyoku Yamagoe 1
Sun 18.04 (WORKSHOP DAY II)
Session 2.1: 10h00 – 11h00 Fukuda Rando (Azuma Ryū) / Gekkoh Rohteki
Session 2.2: 11h05 – 11h50 Technique 2
Session 2.3: 12h00 – 13h00 Honkyoku Sanya (Mountain Valley) 1
Screening 2.4: (time tba) DVD video of Teruo Furuya concert
Sat 24.04 (WORKSHOP DAY III)
Session 3.1: 10h00 – 11h00 Honkyoku Yamagoe 2
Session 3.2: 11h05 – 11h50 Technique 3
Session 3.3: 12h00 – 13h00 Honkyoku Sanya (Mountain Valley) 2
Sun 25.04 (WORKSHOP DAY IV)
Session 4.1: 10h00 – 11h00 Honkyoku Tamuke
Session 4.2: 11h05 – 11h50 Fukuda Rando 2 Kikyo-Genso-kyoku
Session 4.3: 12h00 – 12h45 'Concert' – Let's play all the studied pieces together
To book please use the button below :
(you will be redirected to PayPal to complete the booking and payment process.)
Thank you!
Teruo Furuya website (english/japanese): www.furuyateruo108.com
KSK website (japanese): www.ksk-shakuhachi.com/
---
OCTOBER 2020
Postponed until 2021 Une Journée Autour de la Musique Traditionnelle Japonaise
There is a now a tentative date in October where I will be giving a demonstration of various processes involved in jiari shakuhachi making at the Conservatoire Municipal de Musique in Saulx-les-Chartreux near Paris.

This is an open day which will also features musical introductions to the three Japanese instruments, shakuhachi, koto and shamisen, throughout the day. In the evening there will also be a concert by Emmanuelle Rouaud (shakuhachi) and Gaho Takahashi (koto and shamisen) featuring sankyoku and shinkyoku music.

Date: 3. October 2020 Postponed until 2021
Times: tbc
Location: Conservatoire Municipal de Musique, Espace Culturel Jean Ferrat, 49, rue de la Division Leclerc, 91160 Saulx-les-Chartreux
---
AUGUST 2020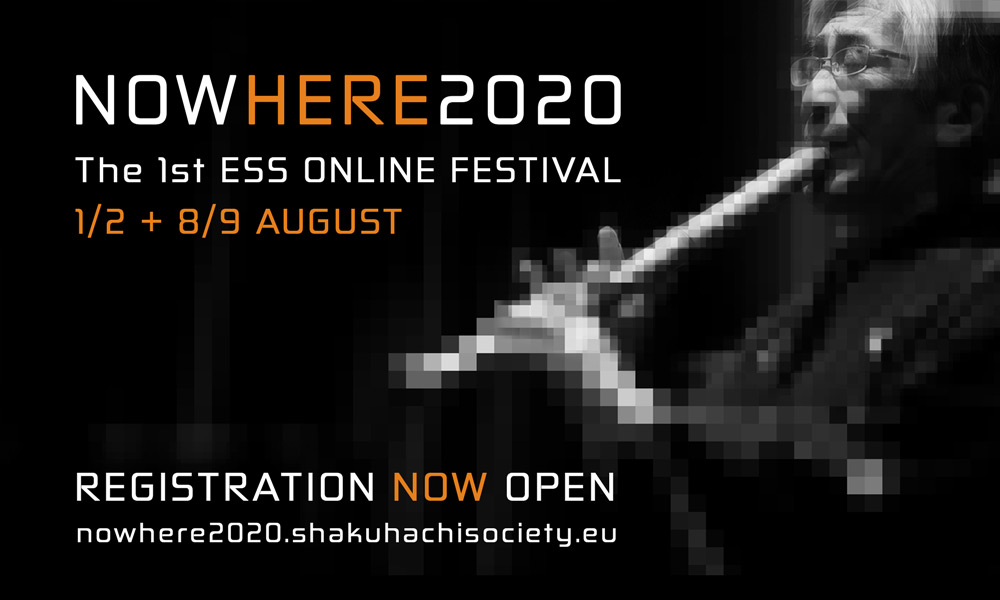 NowHere2020 – 1st European Shakuhachi Society Online Festival

This August shakuhachi atelier will present a session on jiari shakuhachi making covering aspects of the utaguchi (blowing edge) construction as part of the ESS Nowhere2020 online event. (Session is on Saturday 8 August, 13h00 — 13h45.)
Due to the current restrictions on gatherings and music events instead of the annual Summer School there will be an Online Festival hosted by the European Shakuhachi Society (ESS) this summer: NowHere2020. The dates are the 1/2 and 8/9 in August with three teaching sessions each day and as well as a general robuki/tips/welcome session starting off each day.

Besides teachers from Europe there will be Kurahashi Yodo II from Japan, Riley Lee from Australia and Alcvin Ramos from Canada. There are a variety of styles and schools represented and the pieces taught range from beginners to advanced levels.

You can see the full schedule and details about the registration process at the nowhere2020 website here: http://nowhere2020.shakuhachisociety.eu/
---
MARCH 2020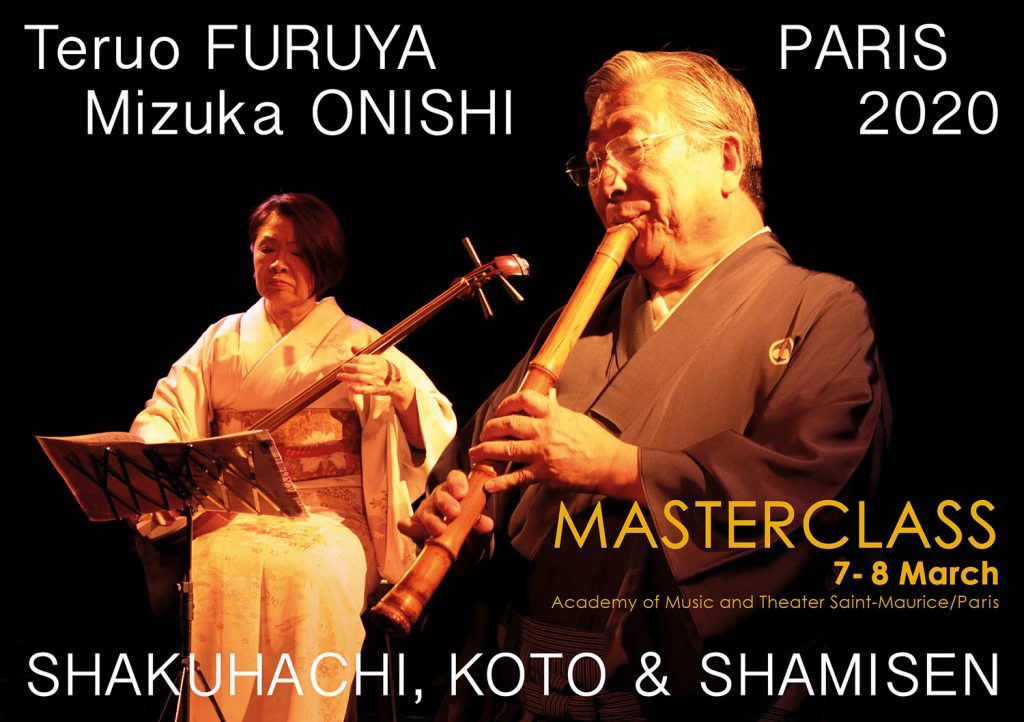 We are excited to announce our 2020 Masterclass with Teruo FURUYA (shakuhachi), director and principal instructor of the Kokusai Shakuhachi Kenshūkan (KSK) in Japan and Mizuka ONISHI (koto/shamisen), recipient of the Tottori Prefecture Cultural Achievement Award 2020, in Saint-Maurice (Paris). The dates are the weekend of the 7 & 8 March and for the location we will return to the Academy of Music and Theater of Saint Maurice.
As in previous years the masterclass will again offer an opportunity to study honkyoku pieces from the Katsuya YOKOYAMA lineage as transmitted through the Kenshūkan and from the wider KSK repertoire. This years' pieces will be the two honkyoku Koku and Sagariha, the sokyoku Haru no Kyoku and the modern Fukuda RANDO composition Tabibito no Uta. For registered participants we will send you photocopied scores and sound files in due course.
DATES & LOCATION
Saturday 7 & Sunday 8 March
Olivier Messiaen Academy of Music and Theater Saint-Maurice
The François Devienne Auditorium
30 bis rue du Maréchal Leclerc
94410 Saint-Maurice/Paris

Metro line 8, Charenton-Écoles or École Vétérinaire de Maison-Alfort
SCHEDULE
Master class 10h00 – 17h30
Koto/Shamisen class 10h00 – 12h30
Lunch break 12h30 – 14h00
FEES
Shakuhachi 1 DAY = € 75 / 2 DAYS = € 140
Koto/Shamisen 1 DAY = € 60 / 2 DAYS = € 110
You are welcome to come to the masterclass for 'listening only' (€ 20 per day)
ENROLMENT AND FURTHER INFORMATION
To reserve your place at the Masterclass 2020 or for any questions please contact us at furuya.masterclass[at]gmail.com. Fees to be paid on the first day in cash.
You can find all the info as PDF here
Hope to see you there!
Emmanuelle, Katsura, Thorsten
---
DECEMBER 2019
"Découverte de la musique japonaise" – as part of a weekend of traditional and contemporary japanese music with Emmanuelle Rouaud (shakuhachi) and Naoko Kikuchi (koto, shamisen) in Montigny-le-Bretonneux (France), I was presenting my PVC shakuhachi at the Franco-Japanese Cultural Institute, Salle Jacques Brel as well as the Canal Mediatheque in Montigny.