EVENTS
MARCH 2020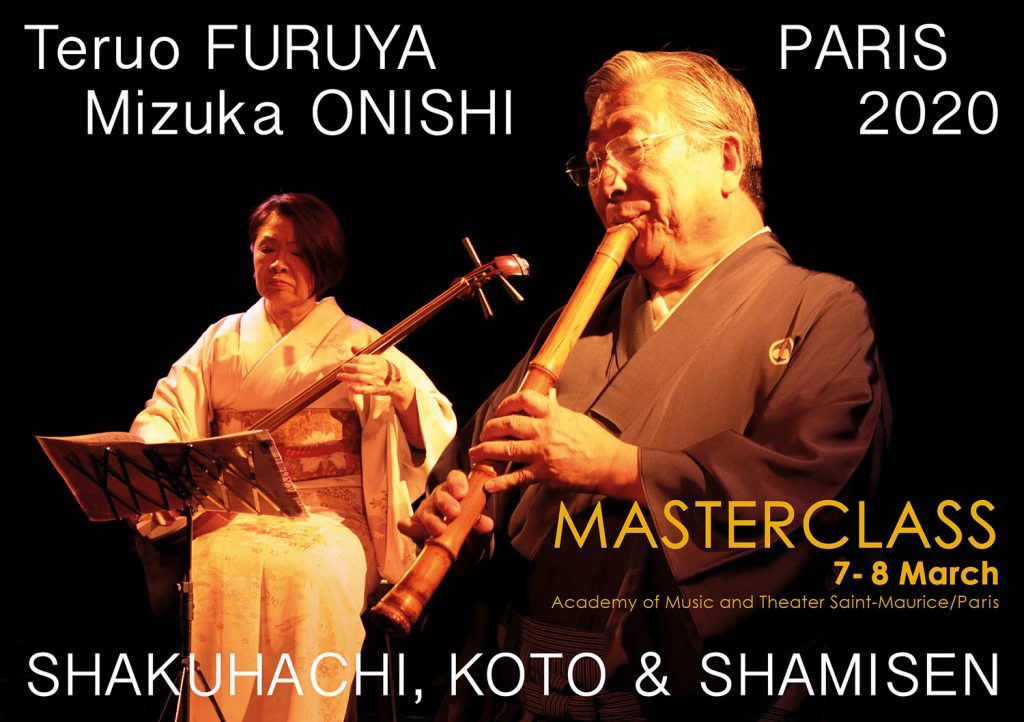 We are excited to announce our 2020 Masterclass with Teruo FURUYA (shakuhachi), director and principal instructor of the Kokusai Shakuhachi Kenshūkan (KSK) in Japan and Mizuka ONISHI (koto/shamisen), recipient of the Tottori Prefecture Cultural Achievement Award 2020, in Saint-Maurice (Paris). The dates are the weekend of the 7 & 8 March and for the location we will return to the Academy of Music and Theater of Saint Maurice.
As in previous years the masterclass will again offer an opportunity to study honkyoku pieces from the Katsuya YOKOYAMA lineage as transmitted through the Kenshūkan and from the wider KSK repertoire. This years' pieces will be the two honkyoku Koku and Sagariha, the sokyoku Haru no Kyoku and the modern Fukuda RANDO composition Tabibito no Uta. For registered participants we will send you photocopied scores and sound files in due course.
DATES & LOCATION
Saturday 7 & Sunday 8 March
Olivier Messiaen Academy of Music and Theater Saint-Maurice
The François Devienne Auditorium
30 bis rue du Maréchal Leclerc
94410 Saint-Maurice/Paris

Metro line 8, Charenton-Écoles or École Vétérinaire de Maison-Alfort
SCHEDULE
Master class 10h00 – 17h30
Koto/Shamisen class 10h00 – 12h30
Lunch break 12h30 – 14h00
FEES
Shakuhachi 1 DAY = € 75 / 2 DAYS = € 140
Koto/Shamisen 1 DAY = € 60 / 2 DAYS = € 110
You are welcome to come to the masterclass for 'listening only' (€ 20 per day)
ENROLMENT AND FURTHER INFORMATION
To reserve your place at the Masterclass 2020 or for any questions please contact us at furuya.masterclass[at]gmail.com. Fees to be paid on the first day in cash.
You can find all the info as PDF here
Hope to see you there!
Emmanuelle, Katsura, Thorsten
---
DECEMBER 2019
"Découverte de la musique japonaise" – as part of a weekend of traditional and contemporary japanese music with Emmanuelle Rouaud (shakuhachi) and Naoko Kikuchi (koto, shamisen) in Montigny-le-Bretonneux (France), I was presenting my PVC shakuhachi at the Franco-Japanese Cultural Institute, Salle Jacques Brel as well as the Canal Mediatheque in Montigny.